3PL
3PL Solution Strategy: Everything you need for the perfect 3PL partnership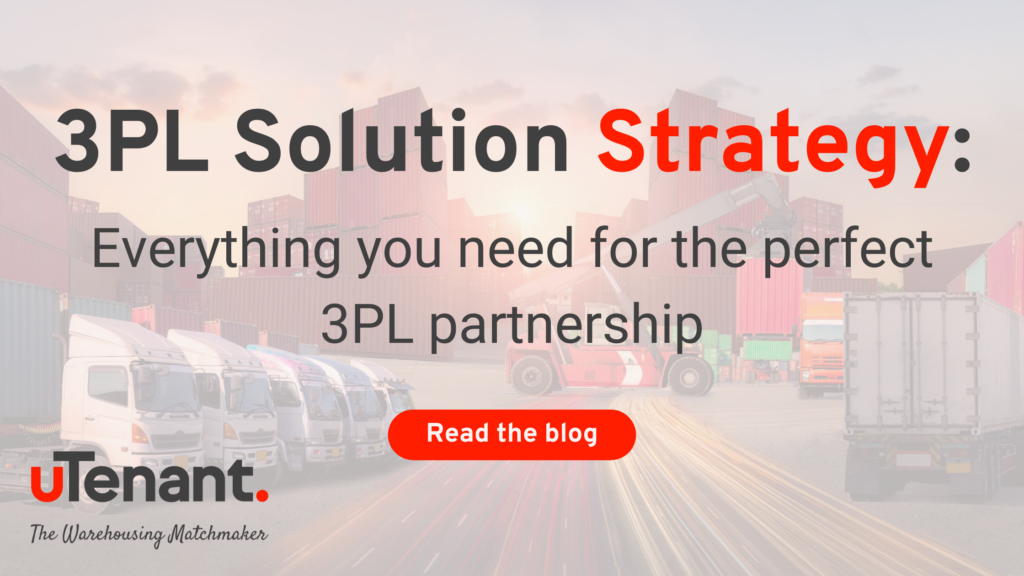 Now, more than ever, businesses are looking for ways to reduce overheads while remaining agile enough to respond to rapidly and regularly changing market conditions. While the pandemic has certainly catalysed this, it has long been a factor due in no small part to the rise of Amazon and its effect on consumer habits and expectations. Enter the Third Party Logistics (3PL) service provider. While not a new concept, it's one that has risen to prominence over the past decade, to the benefit of both businesses and their customers.
---
What this article covers:
The Basics: All the important bits you need to know about 3PL solution providers and how to optimise this service within your business model

3PL Services: What are the benefits of a 3PL, what 3PL software is available and how you can get value-add services for your business

Choosing the right 3PL provider: How to find the perfect 3PL match depending on your unique business requirements

Working with your 3PL provider: The before, middle and after contracts are signed and how to choose a logistics provider that grows with your business
---
THE BASICS
What is 3PL?
3PL stands for third party logistics. In short, a 3PL provider supports businesses with a wide range of their logistics and fulfillment needs. This can include everything from transporting and warehousing products, to fulfilling orders and managing inventory.
3PL providers are utilised by all sorts of businesses, from owner-operators and SMEs, right through to some of the largest companies in the world, and finding the right match will be essential to the success of your business. The sector is valued at more than USD 830.99 billion with annual growth of over 8.3% expected for the next seven years.
What is eCommerce 3PL?
As the name suggests, eCommerce 3PL refers to third party logistics used by online retailers. By engaging a third-party logistics provider, eCommerce businesses can run their entire business – warehouse and all – from a remote office, or even the comfort of their own home.
There are many elements of 3PL that make it ideal for eCommerce. Demand can fluctuate wildly in the online marketplace, making warehousing flexibility a must. The modern customer also expects more of online retailers than ever before. Same day dispatch (and in many cases, delivery) was once considered a luxury, but is now the norm thanks to powerhouses like Amazon. Enlisting the infrastructure and expertise of a 3PL provider is a great way for eCommerce businesses to meet these demands without breaking the bank.
As the name suggests, 4PL (or fourth party logistics) takes the idea of third party logistics to the next level. It essentially outsources the entire logistics side of the business, with the provider steering strategy and offering insights and strategic advice.
4PL is an emerging concept that is more suited to larger businesses that need a holistic supply chain solution.
There's no archetype of what a 3PL tenant looks like. It doesn't matter whether you're a one-person start-up or an ASX100 company, engaging a third party provider to support your logistics needs could help your business keep costs down, help your business keep costs down, operate more efficiently, help you achieve your environmental goals, and improve your customer experience.
If the benefits listed above resonated with you, there's a good chance 3PL might be for you.
---
3PL SERVICES
What value-add services do 3PLs offer?
In the current climate, getting the most bang for their buck is a priority for almost every business. Fortunately, third party logistic providers offer a range of services that can deliver extra value. Depending on the provider, these may include things like negotiating good prices with carriers, offering advice and guidance on your logistics requirements, providing last mile delivery, and access to advanced 3PL software.
What are the benefits of 3PL?
There are plenty of reasons why a business might outsource their logistics requirements to a third party provider – here are some of the most common benefits our clients experience:
· It's cheaper: Three of the biggest costs to a business are wages, rent and equipment. Engaging a 3PL provider can greatly reduce these expenses, allowing for these funds to be invested back into other areas of the business, such as improving the customer experience. Due to the high volumes they deal with, 3PL providers can also negotiate on pricing – savings that they pass onto their clients.
· It saves time: Whether we're talking international shipping or last mile delivery, the world of logistics is more regulated and complex than ever before. This is why many businesses steer clear of these murky waters altogether and leave the navigation to an expert. The manpower this frees up can then be reallocated to more strategic directives.
· It's dynamic: At the start of 2020 who would have thought that hand sanitiser and toilet paper would be some of the world's hottest commodities? We live in an age of increasing uncertainty, where conditions can change overnight, and businesses need to react rapidly if they're to thrive. 3PL allows for more flexible storage solutions that are capable of adapting to fluctuations in demand – be they short or long-term.
· They're experts: Despite what their brochures may have you believe, it's a simple fact that no business is the best at everything. 3PL providers can bring a level of expertise in one key area that simply can't be matched in-house. Whether it's ensuring same day delivery, managing large amounts of stock, or international shipping, experienced providers often have a niche that can give businesses the edge over their competitors.
>> DOWNLOAD OUR 3PL HEALTH CHECKLIST HERE <<
What 3PL software is available?
We've come a long way from using clipboards and spreadsheets to manage inventory. Modern logistics software is packed full of features and intelligence that saves time, energy and costly mistakes. Rather than having to call the warehouse to ask about stock levels or deliveries, you can now see live updates from your mobile phone and make strategic adjustments on the fly. There are many kinds of 3PL software that enable the remote management of all stages in the logistics journey, from procurement and warehouse management, through to shipping and freight.
---
CHOOSING A 3PL PROVIDER
Why is the right 3PL provider important?
Finding the right 3PL provider for your business is vital. A good provider does much more than simply store and dispatch your inventory, they can also unlock operational efficiencies, offer insights and guidance, score you good deals and keep your customers satisfied. On the other hand, choosing the wrong 3PL provider can lead to frustration, mismanaged stock and a poor customer experience – all of which can be avoided with some careful research.
How do I find the perfect 3PL to suit my business?
If you're asking that question, you're already off to a good start. Not all 3PL providers are created equal and some will be better suited to your businesses needs than others.
To find the right one for your specific situation, you should consider several factors including:
Your logistics requirements and which provider can meet them.

Your budget and what this will get you with each provider. Going with the cheapest can end up costing you if they have a long list of additional fees or their carriers don't have adequate insurance.

Your future plans and whether providers are prepared to meet your growth.

Their reviews can tell you a lot about the way they operate and what to expect.
While researching providers can take a bit of time and effort, it can really pay off in the long run. Fortunately, our value-add service takes the pain out of this process by matching tenants with the right 3PL providers for your unique business needs. Find out everything you need to know about uTenant's pallet-matching service here.
What are the best 3PLs for SMEs?
3PL can help level the playing field for Small-Medium Enterprises (SME) looking to compete against big companies and their equally big budgets. With a relatively modest investment, SMEs can get access to warehouse space, IT infrastructure, delivery vehicles, expertise and more. 3PLs that have experience with smaller businesses are often attuned to their needs and can even contribute new and exciting ideas to improve operational efficiency and increase profits.
---
WORKING WITH A 3PL PROVIDER
How do I work in harmony with my 3PL partner?
Finding the right 3PL provider is an important step, but it's only the beginning in what will hopefully be a long and fruitful relationship. And just like all relationships, good communication is key. Being open and transparent with them about your goals, expectations, KPIs, strategy, as well as any issues that arise, sets a good foundation and helps you work together harmoniously.
DOWNLOAD OUR 3PL CHECKLIST HERE
How do I know if a 3PL will fulfill our unique business requirements?
Entering into a partnership with a 3PL provider can feel like a real leap of faith. But with a few simple precautionary measures, that risk can really pay off.
Before choosing a 3PL provider, be sure to do a lot of research. Read providers reviews and see if there's any feedback online that helps give you a sense of how they operate and whether their clients have experienced any issues. Not all 3PL providers offer the same services or specialise in the same areas, so make sure the one you choose is matched to your needs.
Once you've selected a reputable provider, have an open discussion with them about your requirements and expectations. Be clear about your business's requirements and establish some strategic KPIs, so you can flag any issues before they develop into serious problems.
---
Want to learn more?
To learn more about the world of 3PL and how it can help your business succeed in an ever-changing environment, contact our helpful team at admin@utenant.com.au