How -Tos
Everything you need to know about uTenant's pallet-matching service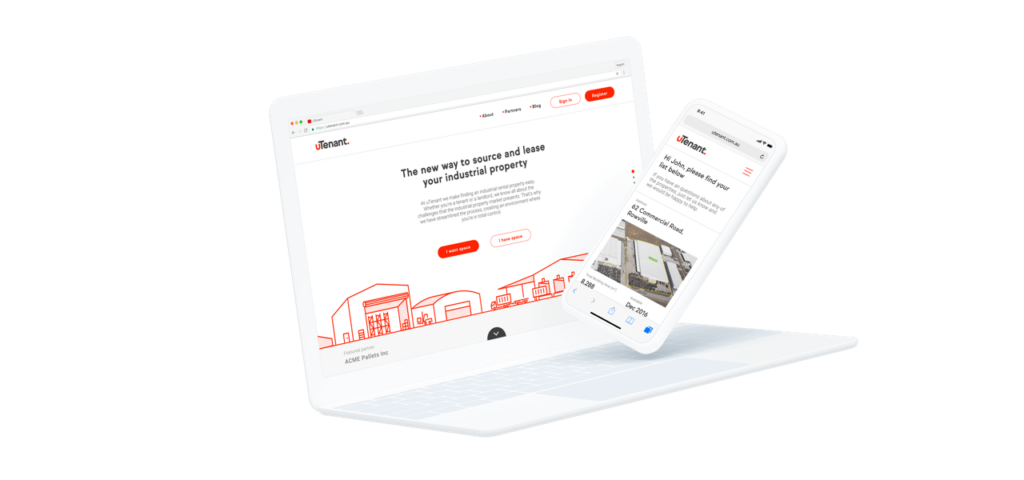 We know a lot of you already, and have had the great pleasure of working closely with Australia's top third-party logistics services (3PL's), to help product owners, retailers and manufacturers find their perfect warehousing and storage solution.
As uTenant has become great friends with the warehousing and logistics industry, it means our network has grown significantly.
So one evening, the Founders sit down to come up with new ways to use this growing network to help the community, to give back to our clients and to continue creating these connections.
Picture this.
It's a Tuesday evening, the whiteboard is filled with ideas. Matt and Kyle are thinking of examples of businesses who offer great additional services to their clients… Uber, YouTube etc… Those three-sided platforms that offer value over service.
And then it clicked.
uTenant helps two types of tenants: The product owner or 'shipper' and the 3PL provider, and we needed a service that can help both.
What they came up with was a three-sided platform that has since matched over 25,000 pallets.
uTenant found a way to help both tenants (product owner and 3PL provider) find and fill excess warehousing space and to source longer-term 3PL solutions.

So what is this service exactly?
This is the pallet-matching arm of the uTenant platform. It is a service that helps you find and compare overflow storage or longer term 3PL providers efficiently, when you need it.
When you're tired of spending time comparing 3PL providers and their widely different rate cards, the uTenant platform saves you time and money by utilising our extensive 3PL database of quality providers throughout Australia.
We help you create a standardised rate card for your specific product & service requirements, then allow you to pick your preferred 3PL(s), to quote and package up a comparison for you, so you can simply pick and choose who to engage with - All within a confidential and transparent environment.
And how does it work?
Efficiently, confidentially, transparent, and with no margins. We have created the largest network of 3PL providers to help our customers reach and compare top quality providers to suit their service and product needs. And we really do cater for ANY product needs: from milk to steel!
Let's break this down into the five key things you need to know about uTenant's pallet-matching service:
We don't charge a margin for this service.
Our platform is easy to use and caters to your unique pallet requirements.
Once you've found your perfect match, we connect you directly to your preferred option(s).
We are around to help for as long or as little as you need.
We have simply created a new way for product owners to find overflow storage or a longer-term 3PL solution.

What's the difference between overflow storage and a longer-term 3PL contract?
Surplus storage and overflow:
When you have more inventory than your warehouse can cater for. This often happens when a business experiences a rapid growth period or if your current warehouse becomes overstocked due to slower-moving inventory.
Depending on your requirements, this may be a casual pallet-per-week contract or another agreement to create a simple and good value solution. Simply let uTenant know your preferences and we will supply you with the right 3PL to suit these needs.
Longer-term 3PL contract:
If you need a 3PL provider to accommodate your unique storage requirements on a longer-term basis, we know the best people for the job. And we mean it when we say we cater for your unique requirements, because we know that each business and product is different. So this may include a special pallet rack configuration, cold-storage, block-stacking, next day delivery, specialised handling or other required processing.
How do we earn money?
We get asked this a lot. uTenant is 100% free for tenants to use, as you know. We offer the pallet-matching service free of charge (no brokerage fee).
Instead, we get our fees when we assist our clients into a new facility.
And we can actually do one better: Once a lease has been signed we share our fee back with you!
Why?
It's really simple. One of our favourite quotes is by Gary Vaynerchuk and it goes like this: Truly wanting to help is always the best business strategy.
We are a team that has worked in logistics and warehousing for many years, and we understand the pain points. uTenant was born to create solutions for you. To make processes transparent, confidential, trustworthy and easy.
That's really it.
---
To use the pallet-matching service, enter your requirements through the uTenant platform here.
This is what it looks like:
If you would like any more information, contact our General Manager Dave Jenkins at dave@utenant.com.au