Warehousing
Managing the retail rush and getting your pallet storage ready for the season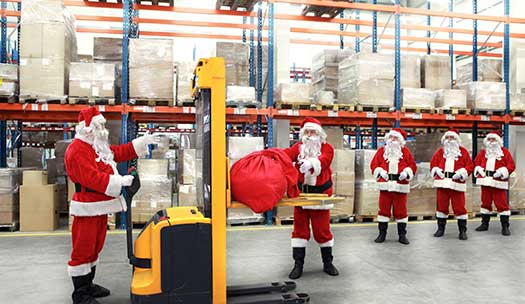 Fulfilling end-of-year orders is a great challenge for most 3PL's and Shippers. And with the impact COVID has had on the online shopping trend, retailers can prepare for a mass increase in online customer orders this year.
And it's not just Christmas gifts and other seasonal items. We are combining everything Holiday Season with Summer living - BBQ's, outdoor furniture, gardening equipment, beach accessories. You name it.
Many holiday-heavy businesses see an inventory increase of 40% or more each year to fulfill the expectations of last year's sales report. So, to ensure there is no shortfall in your demand planning during these peak purchasing months, overflow pallet storage could be your answer.
Overflow Pallet Storage:
Adding short-term leases and pallet storage to your operational strategy this year can help your business gain that competitive edge. 3PL's usually seek additional warehouse space this time of year to help you manage your inventory and logistics needs on a short-term basis.
Working with a 3PL to outsource your pallet needs can be hugely beneficial and cost effective. It allows you to manage the rise and fall of your inventory and handle overflow stock. And it's temporary! Meaning you don't need to invest in an additional warehouse when the influx of customer orders lasts only for a few months.
Location:
Not only are we dealing with more inventory demand, but also speed of distribution to meet growing customer expectations for same or next day delivery. Competition is usually at an all-time high during this time of year anyway, with businesses out-delivering one another: working to be first to the door, create the best customer experience, and at the best price.
Online orders are growing constantly, with online purchasing habits having increased by 135% since the beginning of the COVID-19 pandemic. By entering into short-term leasing to manage the busy period not only manages your pallet storage but also allows you to fulfill your customer needs.
Be smart with where you lease your additional space. Look at metropolitan locations that allow you to be nearer to your customer and therefore increase your speed from warehouse to door. With greater dependency on eCommerce, we are already seeing a shift in demand for smaller warehousing within city limits which we predict will only grow over the next few years.
---
uTenant has a complimentary matching service that puts you, the tenant, in touch with the right 3PL provider, to meet your unique requirements for the Season.
Get in touch today if you're in need of overflow storage or would like to discuss upgrading your 3PL.