News/Media
How Lack of Supply Chain Transparency Created uTenant's Pallet-Matching Service
*Content taken from Kyle Rogers speech at the 2022 ASCL Awards Night & Gala - 18th March 2022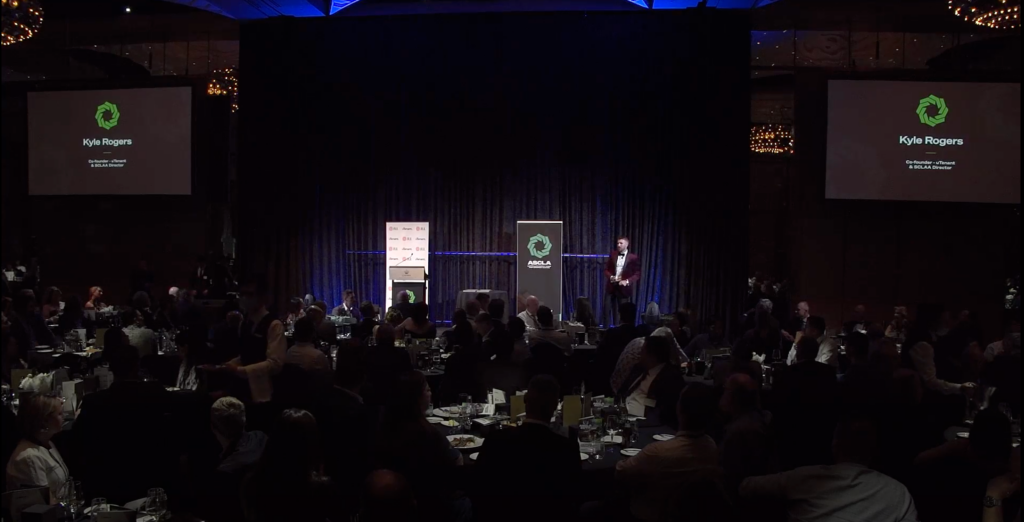 "So how did uTenant get here?
There are a million things I could speak about given my passion and upbringing in the logistics and supply chain industry, my role at uTenant and my wonderful affiliation with this unique association (SCLAA) and as mentioned, I've been actively involved now for six years.
But I'm going to tell you a story about how our journey happened. About how we at uTenant secured an investment from one of the largest companies in the world.
When Transparency in Supply Chain was just an idea...
First of all, let me take you back to January 2019. I'd just taken over as Victorian and Tasmanian State President at the SCLAA and we were running our first networking event at the European Beer Cafe in Melbourne's CBD. I asked my wife to come along to help me set up for the event and when we got home later that night, she said to me 'Kyle I met this really nice guy at the event called Matt Sampson and he's just launched a business called uTenant, which is a platform directly connecting tenants with landlords when they need to source or procure industrial real estate.'
This struck my interest, and just few weeks later, after reaching out on LinkedIn, Matt and I met at the Early Bird's cafe on Boundary Road in Derrimut.
Not only could I hear it, but I could feel Matt's passion for industrial property and learned he had spent a decade with one of the largest industrial property firms. He told me how he wanted to bring more transparency to the industrial property sector - something we now joke about as being the worst best-kept secret in supply chain. Matt told me that he wanted someone with supply chain and logistics expertise to join him on his mission. Now, some of you may know my story, so I won't go into it here, but for someone who grew up in logistics, driving forklifts since I was 12 - I knew this was my calling.
Matt also told me about the risks associated with joining a start-up, and the risks that he took to go out on his own to start up his business against all the odds. And there were risks for me as well - I had just bought a house and had my first child on the way.
So, I reached out to my greatest mentor, Matthew Barbuto, and I asked him for some advice.
In short he said 'Kyle, what have you got to lose? Take a risk. Worst case is it doesn't work out, and you will find another job'. And so with that, I took on the risk.
Now this isn't a fairytale story, and everyone here will know it wasn't all roses. About six months into the role COVID struck and a number of projects that we were working on were put on hold.
But this is where the greatest risk came, and there are three parts to my story here:
Risk
Coopetition
Disruption
Risk (and reward)
And the greatest risk came along and Matt put his family house up for sale in order to secure our wages for the next few months.
Because of the risk that Matt took on me, I couldn't let this happen. I was aware of the concept of 'on-demand warehousing' from my time at University and after some more research, I found that other businesses charged a margin for this service. But given we already had a sustainable revenue stream through industrial property and supply chain solutions, we had that penny-drop moment.
"We made the platform bigger and better to service our customers"
So we thought why don't we bolster this service, do it better and offer this for free?
Why don't we make it free to look for short-term and 3PL warehousing space, and that way we're adding more value to our customers.
Overnight like magic, things changed. Businesses through COVID needed to find warehousing space to manage inventory - and so the Warehousing Matchmaker was born.
And that brings me to my next point on coopetition.
Coopetition in the Supply Chain space
For everyone's reference, coopetition is the collaboration, communication and cooperation between your competitors in order to better service your customers, suppliers and the wider industry.
As a two-man band back in the early days, Matt and I needed some additional support to help service a few of our early adopters. We reached out to a friend within the industry for some assistance and after realising the value we brought to each other, uTenant entered exclusively with JLL for our first external strategic capital raise.
It's been just over 12 months since JLL officially invested in uTenant, and I am proud to speak on behalf of our team when I say it has been an overwhelming success for us and for our customers.
But many people say to us: 'didn't uTenant set out to disrupt the industrial estate agent market?' And yes we did. However the way we work together with JLL is unique. JLL represent the landlord and uTenant represent the tenant - the occupiers of industrial real estate, through our on-demand warehousing platform and our supply chain solutions services.
"Coopetition is the collaboration, communication and cooperation between your competitors in order to better service your customers, suppliers and the wider industry"
Therefore, w have a clear delineation of who represents who in the property procurement process and most importantly, this means transparency for everyone involved.
Let's look at some other examples of Coopetition:
Biotech with Pfizer - In March 2020, these two companies helped each other to distribute the COVID vaccine in record time across the globe.
Believe it or not, Netflix is one of Amazon's biggest web-service customers (although their steaming services compete).
That leads me to my next point on disruption:
Disrupting warehousing and supply chain
And sticking with the theme of Netflix...
Many people think Netflix disrupted their industry by their on-demand streaming service when in fact, Netflix's disruption started years earlier when they targeted Blockbuster's famous late fees. Netflix's model at the time was no late fees ever, plus we'll send you another movie when you've returned your other one.
Blockbuster didn't react.
Then they launch their streaming service years later. In fact, Netflix tried to sell their service to Blockbuster for $50million, but the rest is history.
But that might not be Netflix's biggest disruption. It's happening now in front of us all - Netflix Originals. So rather than battle it out with other streaming services, they've targeted TV production - by creating their own content to compete with Disney, Warner Bros and other big production companies.

And to tie it altogether...
Bear with me, there's a point to all this.
Disruption starts small - it doesn't come in overnight but it does creep up. And if you can't compete against disruption, you can apply the laws of coopetition like the examples we just provided.
To close, I want to share how much we at uTenant look forward to executing on our vision to become the world's largest warehousing and supply chain ecosystem driven by transparent digital technologies.
I want to go on record to say that at JLL and uTenant - together we're disrupting the disruptors and what a journey it's going to be."
Follow our LinkedIn page for more information