Which warehouse pallet racking type is right for my business?
What is a pallet racking system?
Pallet racking systems are designed to store large volumes of materials efficiently, most commonly used in industrial warehouses. Most pallet racking systems utilize pallets arranged in horizontal rows with multiple levels, however there are a number of different systems allowing for different levels of storage, density and the way pallets are added or removed, known as selectivity, from the system.
What are the different types of pallet racking system?
SELECTIVE RACK
The Selective Rack system is designed to enable direct access to pallets stored, without having to move other pallets out of the way first. Typically in this 'last-in-first-out' (LIFO) solution, pallets are placed on shelves between uprights, and are stored one row deep, with access on either side. Having free access to all materials stored makes this system highly selective. This system is normally low density, and may require numerous isles of racks if there is a plentiful amount of material being stored. This system is ideal for warehouses with continuous circulation of materials stored. It is also ideal for storage scenarios where it is unclear when the material will be unloaded next, as access is always available.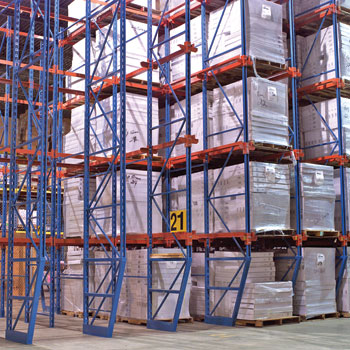 DRIVE IN & DRIVE-THROUGH
Drive-in rack systems are generally used in scenarios where a higher-density of storage is required. Drive in systems can be several rows deep, meaning selectivity of particular stored materials is limited. Drive-in systems are a 'first-in-first-out' (FIFO) solution. In this system, access to materials may be blocked unless other materials are moved out of the way first. Typically, drive-in bay entrances are setup to allow forklifts to drive in and drop material off, several rows deep. Drive-through systems differ in that there is access on both sides. These offer slightly more selectivity with access from both sides, but don't fully ensure no moving of materials is required to access stored materials several rows deep.
These systems are great if you're looking to maximise storage space with only one point of entry. It is not ideal for storage solutions requiring quick, selective access to stored materials (that may be stored behind other materials).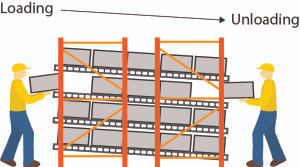 FLOW
Flow rack systems are designed with pallets on a bed of rollers, and built on a slight pitch. Flow systems allow pallets to naturally flow toward the front of a bay as the pallet in front of it is picked as part of a 'first-in-first-out' (FIFO) solution. These systems are typically loaded from the back, and suit scenarios where storage of many of the same item is required.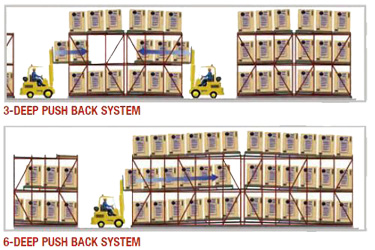 PUSH BACK
Push back racking systems are similar to flow racks and are also designed to use gravity for natural flow of pallets upon picking. They are a last-in-first-out (LIFO) solution. Pallets are stacked from the front and 'pushed back' and up their roll system. When picked, the next pallet rolls down to the front. These systems are ideal for scenarios where high-density storage of the same type of pallet is required. They are not suitable for high selectivity scenarios with varying material storage types.
Pallet racking with uTenant
If you're looking for warehousing or racking solutions, email our solutions team today.