Welcome to uTenant's market update on the state of the 3PL storage costs in Australia as of July 2023 - with peak overflow season on the near horizon!
Many 3PLs have taken the opportunity to compress their warehouses to make way for the inevitable flow of goods into their sheds in the second half of the calendar year. We note that peak season volumes haven't really started to launch yet, so we're likely seeing that peak period starting later in the year than usual.
What does this mean for the 3PL landscape? Well put simply, a number of warehouses sitting partly empty and waiting for stock to arrive! This has caused a good number of cheaper rates in the market as 3PL's look to sure up supply of stock to backfill space and keep cash flow positive.
Meanwhile, the ongoing growth surge in e-commerce activity has significantly influenced availability of warehouses across the country, causing some of the lowest vacancy rates in the world right here in our backyard. This has naturally caused a flow-on effect on pallet rates in some of the key markets too.
Storage costs around the country
Our recorded pallet storage costs can vary widely based on factors such as location, warehouse size, services provided, duration of storage, and the specific businesses we're dealing with. Below is a high-level summary of current average market rates around the country. The data is gathered through exclusive insights from our pallet matching work, undertaken with our network of 3PLs and their customers.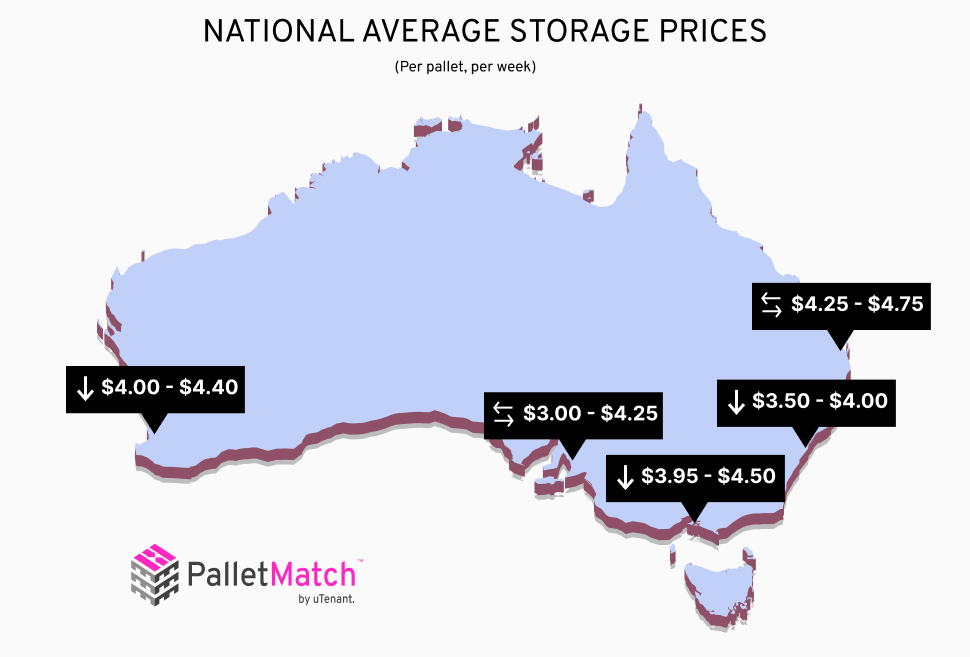 * Sydney - with vacancy rates so low, warehouses are popping up all over the city with space available, meaning that it has been the quickest to drop rates, with $4 pallets coming in hot, some even as cheap as $3.50-$3.80!
* Melbourne the next cab off the rank, pallet storage prices coming down from their highs to sit around the $3.95 - $4.50 mark.
* Perth has opened up significantly with a few new players entering the market out west. Their entry has seen prices fall for overflow storage from the average around $5.50 down to the low $4's.
* Adelaide is business-as-usual with space tight to come by, but rates haven't seen much movement in the past few weeks averaging around the $3.00-$4.25 range.
* Brisbane is a tight market in terms of vacancy, however providers with warehouses in the Sunshine State have capacity to take on overflow storage, rates sitting comfortably in the $4's.
It's important to note that these figures are rough estimates and can change over time. To get accurate and current pricing information, we recommend contacting us directly and discussing your specific storage needs, location, and any additional services you require. This will help us get a more precise understanding of the costs associated with warehouse pallet storage that suits your business requirements.
If you're ready to take advantage of the current market prices and have some pallets to move ASAP, get started with your requirements below!
Chris Spiteri
---
Chris is uTenant's warehousing guru, responsible for sourcing and filling warehouse space right around Australia. He works with uTenant's extensive 3PL supplier network to place clients in warehouse space specific to their growing needs.
Chris utilizes uTenant's purpose-built PalletMatch platform to instantly match storage requirements into suitable locations throughout Australia and New Zealand. Get in touch with us today to find out more about PalletMatch and how it can help you.
If you are looking for warehouse space click the button below to start your search with utenant. If you have space to fill get in touch with Chris and the uTenant team now.
Need Warehouse Space?