Coming into what is normally peak period, rates have remained largely steady with a very slight increase in some States, however, not what we would traditionally see in peak period.
Peak season hasn't reached its highs of previous years, with confidence low and consumer spending dialled right back, we don't anticipate to see that type of volume this year.
Stability in the market is welcome. After years of volatility, some certainty on conditions will provide some additional confidence and assurance for decision makers.
Additionally, heading into this time of year, we are not seeing the typical surge in demand for overflow and short-term storage. This could mean there is a buildup of capacity, which may translate into some good opportunities post peak season.
Storage prices around the country
Our recorded pallet storage prices can vary widely based on factors such as location, warehouse size, services provided, duration of storage, and the specific businesses we're dealing with. Below is a high-level summary of current average market rates around the country. The data is gathered through exclusive insights from our pallet matching work, undertaken with our network of 3PL providers and their customers.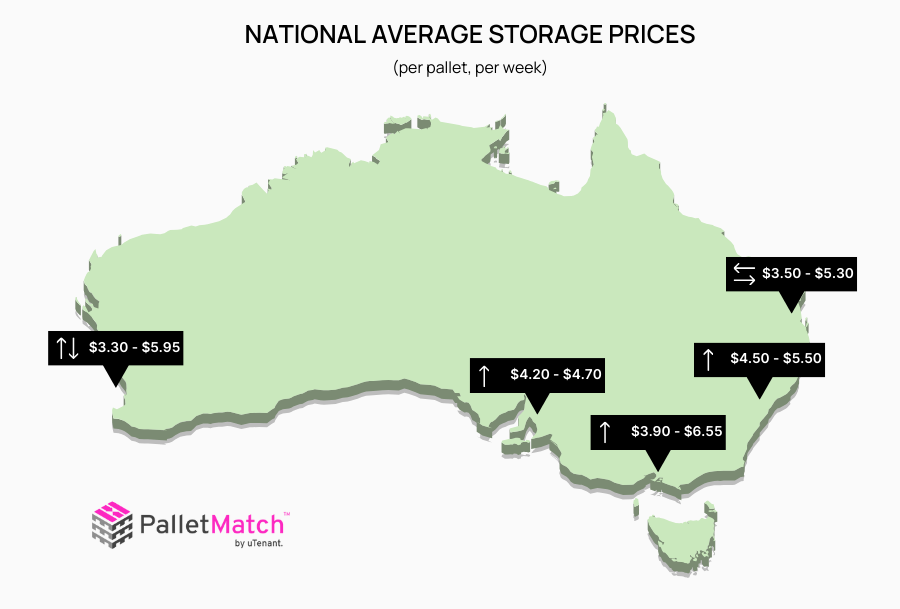 The National average storage rate is still sitting around the $4.60 mark pppw1.
It's important to note that these figures are based on uTenant's network of 3PL providers and will change over time. To get accurate and current pricing information, we recommend contacting us directly to discuss your specific 3PL and storage needs. This will help us get a more precise understanding of the costs associated with warehouse pallet storage that suits your business requirements.
If you have a storage need or are looking at a new logistics provider in the short-term or long-term, get started with uTenant now.
Chris Spiteri
National 3PL Network Manager
uTenant
---
Chris works with uTenant's extensive 3PL provider network to place clients in warehouse space specific to their growing needs. He utilises uTenant's purpose-built PalletMatch platform to instantly match storage requirements into suitable locations throughout Australia and New Zealand. Get in touch with us today to find out more about PalletMatch and how it can help you.
If you are looking for warehouse space click the button below to start your search with uTenant.
If you have warehouse space to fill, get in touch with the uTenant team now.
Need warehouse space?
1Benchmarked on per pallet per week (pppw) or part thereof.