It's that time of year again. Peak season is upon us and Supply Chain Managers are scrambling to make sure their businesses are prepared for Cyber-week and Christmas volume. However, unlike recent years this year it has not been so frantic.
Off the back of COVID-19, a spate of interest rate hikes and declining consumer demand1 we see everyone has been working hard to reduce inventories2. As a result of this focus, overall demand for additional storage space is a little lower than anticipated for this time of year. Generally, when the economy tightens, we see a shift in demand from discretionary items (non-essential goods) to staples (essential goods), for consumers and 3PL providers alike. There also tends to be less appetite for risk in carrying surplus capacity and this results in all parties being more strategic with their storage agreements. We will be keeping close watch on the lead indicators over the next quarter.
This peak season, Australia hasn't seen the volume of imports and demand compared with recent years. There is more vacant storage space available in the market than there usually is at this time of year. In uTenant's 3PL network, we are seeing the range of storage rates widen – those with more than usual vacant space are offering some really great deals and promotions, however, this likely won't last long, as the cost to serve for 3PL providers (labour, interest rates, utilities, materials, property) continues to rise.
There is always a direct correlation between 3PL providers' cost to serve and the storage rates they offer the market. The increases we are seeing is generally a function of property cost increases, increased outgoings, and in some markets like Victoria the expiry of favourable long term leases struck in the main industrial development corridors 10 years ago. At the same time there are a lot of providers competing for new work keeping large increases in rates at bay for now.
Storage prices around the country
Our recorded pallet storage prices can vary widely based on factors such as location, warehouse size, services provided, duration of storage, and the specific businesses we're dealing with. Below is a high-level summary of current average market rates around the country. The data is gathered through exclusive insights from our pallet matching work, undertaken with our network of 3PLs and their customers.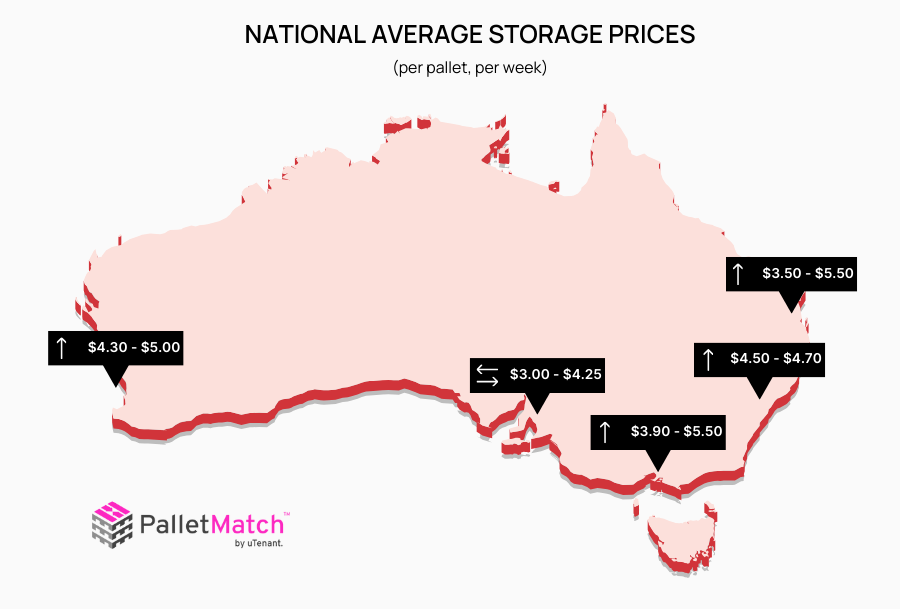 Rates in Brisbane, Perth and Melbourne have all increased slightly, but competition between 3PL providers is picking up too, so there will be more options in the market. Adelaide remained consistent. Sydney is the outlier, where demand still outweighs supply and we've seen a spike in storage rates.
The National average storage rate is sitting around the $4.60 mark pppw3.
It's important to note that these figures are based on uTenant's network of 3PL providers and will change over time. To get accurate and current pricing information, we recommend contacting us directly to discuss your specific 3PL and storage needs. This will help us get a more precise understanding of the costs associated with warehouse pallet storage that suits your business requirements.
If you have a storage need or are looking at a new logistics provider in the short-term or long-term, get started with uTenant now.
Chris Spiteri
National 3PL Network Manager
uTenant
---
Chris works with uTenant's extensive 3PL provider network to place clients in warehouse space specific to their growing needs. He utilises uTenant's purpose-built PalletMatch platform to instantly match storage requirements into suitable locations throughout Australia and New Zealand. Get in touch with us today to find out more about PalletMatch and how it can help you.
If you are looking for warehouse space click the button below to start your search with uTenant.
If you have warehouse space to fill, get in touch with the uTenant team now.
1Westpac Consumer Price Index.
2ABS Quarterly estimates.
3Benchmarked on per pallet per week (pppw) or part thereof.