Warehousing
4 ways your 3PL provider can help you reach your environmental goals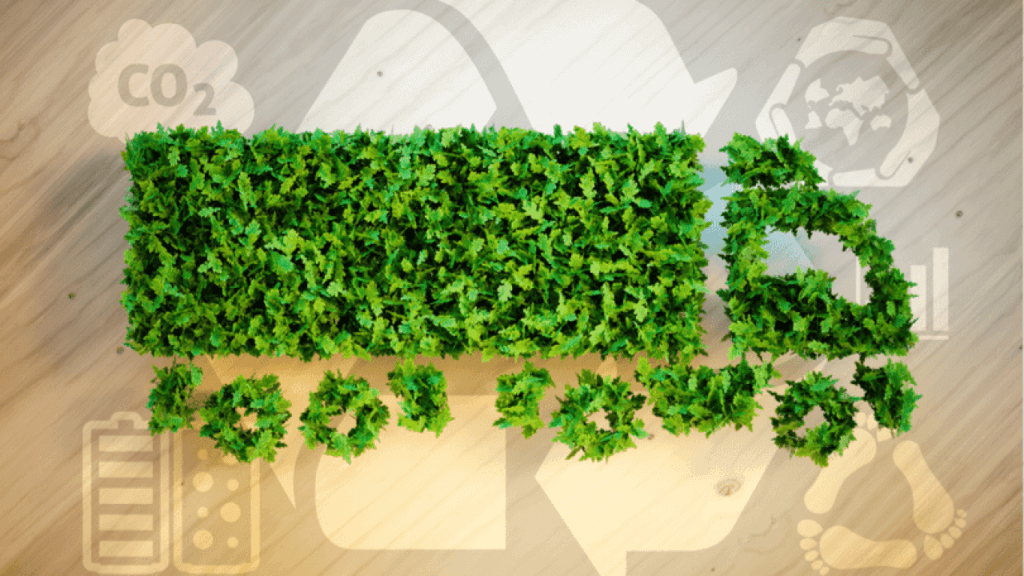 Your 3PL and logistics partner is essential to helping you achieve your business outcomes, and as sustainable supply chains become more of an objective for companies worldwide, working with your 3PL provider to implement more environmentally friendly supply chains will help you along the way.
Sustainable supply chains not only help our planet, they help gain customer favour. Studies suggest that 9 out of 10 Australian consumers are more likely to engage with your product or service if it is ethical and sustainable. This study also reveals that 85% of consumers expect brands (retailers especially) to be more transparent about the sustainability of their business.
So it goes without saying. Working with your 3PL provider to create more environmentally sustainable processes is beneficial to your bottom line.
A great 3PL will know this and already be working towards implementing more sustainable initiatives into their operations. Examples could be monitoring their transportation and its carbon footprint, identifying how they can optimise their waste output, looking into more biodegradable packaging and examining how they are powering their warehouses.
Check out this checklist to finding the right 3PL partner to suit your business requirements.
Here are a few things you can easily ask your 3PL provider to ensure they are helping you achieve your environmental goals: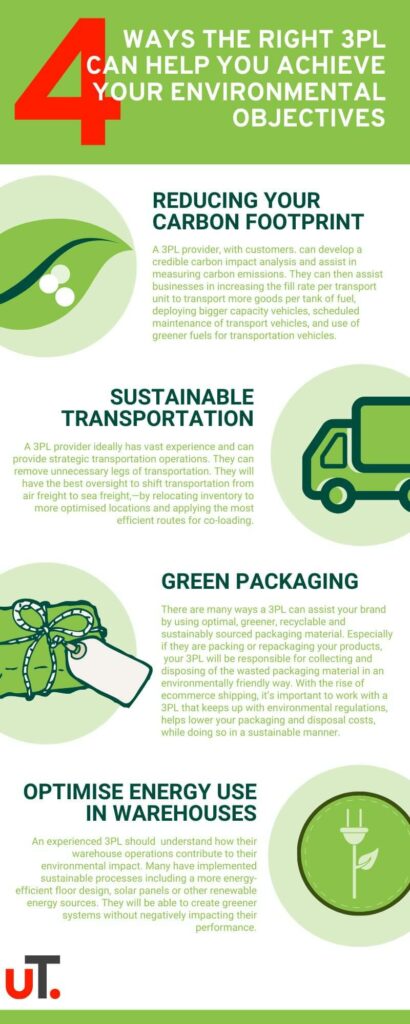 Carbon Footprint
Ask your 3PL provider how they are optimising transport routes and increasing the fill rate per transport unit.
Transporting goods means leaving a carbon footprint, and until diesel and oil is no longer available, we cannot avoid it. However, there are ways you can reduce your carbon emission.
Work with your 3PL to deploy bigger capacity vehicles, schedule regular maintenance of transport vehicles, and use greener fuels where possible. By looking at how your 3PL can optimise their routes that reduces their fuel time is also a great way to create better and more environmentally stable logistics operations.
Strategic transportation operations
Building on how your 3PL can optimise transportation routes is looking at how to remove unnecessary legs of transport when available. Your 3PL provider will be knowledgeable in what and how they can do this, including what they can move from air to sea or by relocating inventory to more suitable locations.
Also remember that your 3PL partner will know the carriers working hard to also achieve their sustainable goals. Align your business with these providers.

It's the way the modern world works. Businesses are no longer competing, our supply chains are! Check out our tips here.

Packaging!
With eCommerce on the rise at a hugely accelerated rate, it is essential you and your 3PL provider adhere to eco-friendly regulations. Another way you can do this is by sourcing and using greener, sustainably made and sources packaging. If your 3PL is responsible for this, they will also be responsible for collecting and disposing of this packaging in a way that is environmentally friendly.
Get creative with your packaging more, and don't forget to continually communicate this with your customers. The stats are showing that explaining your sources and your reasons behind being more eco-friendly, will only do positive things for your business.
Powering the warehouses
Warehouses are a monster for consuming energy, and your 3PL should have a firm understanding of this. We know a few who have implemented great sustainable processes, including renewable energy sources like wind or solar power, as well as looking at their floor design to optimise performance and create a more energy efficient operation. Creating greener systems is do-able without sacrificing your warehouse performance.
As a business, your bottom line matters most, and creating an eco-friendly and sustainable supply chain is a strategic business decision that will help improve your CX and revenue.
Collaborate with your 3PL to ensure you are achieving your sustainability targets, reducing your overall carbon footprint, reducing waste, and creating systems that are energy efficient.
If you're looking for a new 3PL provider, or overflow storage in the lead up to the Seasonal rush, uTenant offers a complimentary service, and matches you to the right 3PL based only on your business needs.
Simply enter your requirements here and a member of the pallet-matching team will be in touch.