3PL
How to negotiate additional value from your 3PL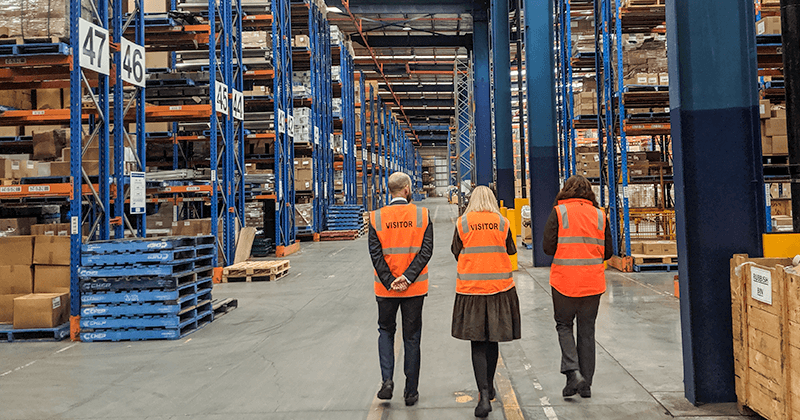 In the era of outsourcing, it makes sense that more and more businesses are turning to 3PL to help meet their logistics demands. Aside from offering an economic advantage, utilising a third-party can enable a dynamic strategy capable of meeting the rapidly changing demands of the modern market.
The 2020 Third Party Logistics Study found that nearly all (93%) of 3PL users had a successful relationship with their provider. Two thirds reported that their 3PL offers them new and innovative ways to improve their logistics effectiveness, while 83% said 3PLs had helped them improve their customer service.
Looking at these figures, it's clear that outsourcing logistics requirements can help some businesses operate more efficiently and effectively. In this article explore some of the various ways they do that and how you can get the most value possible from your 3PL.
How 3PLs can add value
There are two main ways that 3PLs can add value and help improve your bottom line - by reducing your operating expenses and adding value.
Saving you money
A major advantage of 3PLs is that they can reduce all three of the biggest business expenses: wages, rent and equipment. Outsourcing your logistics needs mean you don't have to employ staff for your warehouse or as delivery drivers, nor do you need to pay for space you might not always use, or purchase and maintain expensive equipment. This flexibility is particularly appealing, as demand forecasting – already a challenging endeavour at the best of times – becomes even more difficult in a post-COVID world.
Because they deal with a large amount of inventory, 3PLs are also often able to negotiate better deals than a smaller customer. This economy of scale is another big benefit of 3PL, as these savings are then passed onto you.
A good 3PL can help you navigate the increasingly regulated world of logistics, saving your business countless man-hours of administration and red tape. As the saying goes, time is money – so why not save yourself both by leaving the tricky stuff to the experts.
Adding value
Customers' expectations are higher than ever, fuelled in no small part to the Amazon Prime effect. Thanks to the increasingly varied array of value added services they offer, 3PLs can be a great way to meet these demands and win repeat business, while also keeping costs down.
The majority of these additional services are focussed on order fulfillment and can include things like shrink wrapping products, packaging goods to your exact specifications, kitting multiple items together, and offering last mile delivery with visibility to both you and the recipient. Some 3PLs even offer to assemble or personalise items before dispatch.
How to negotiate value
While there are plenty of advantages to 3PLs, you'll need to actively work to extract the most value out of the partnership. Here are some of our tips for working effectively with your provider.
Find the right 3PL:
Not all 3PLs offer the same services or quality of service. To get the best value from your provider you need to first choose the right one for your situation and requirements.
Our unique pallet matching service helps match your unique business needs with the 3PL providers that can deliver on them. This not only saves you time and simplifies what's usually an arduous process, it's also totally free! Find out everything you need to know about uTenant's pallet-matching service here...
Build a relationship:
Partnering with a good 3PL is like having a logistics expert in your corner, so it makes sense to capitalise on their knowledge and connections. While some of this will happen organically, in our experience the businesses that have a close and engaged relationship with their 3PL get the most out of it.
Talk to your provider regularly, ask questions, and provide them with updates to give them a comprehensive understanding of your business. This will enable them to give you more informed, relevant advice and support so you can navigate the supply chain more efficiently.
Share data:
Speaking of informed decisions, rich analytics are an increasingly important tool for both 3PLs and their customers. While data from your 3PL can help you forecast demand, manage inventory, and deliver a better omnichannel customer experience, information should flow the other way too.
Sharing key data about your operations with your 3PL helps them to make informed strategic and operational decisions that deliver efficiencies and benefit to you. This approach requires putting a fair bit of trust in your 3PL, but viewing them as more of a strategic partner than a vendor can be a great way to get additional value from the relationship.
---
In summary…
3PLs can save your business money, time, and manpower, while also offering expertise, insights, and flexibility. It's these qualities that have made 3PL an attractive option for businesses of all shapes and sizes.
Selecting the right 3PL for your needs is vital, but getting the most value out of the relationship requires a shift in thinking and approach. Ensuring you're sharing not only information but also data with your 3PL can allow them to make more informed decisions.
Over time, your 3PL can become a close strategic partner and an integral part of your operations.
---
Want to learn more?
To learn more about the world of 3PL and how it can help your business succeed in an ever-changing environment, contact our helpful team at admin@utenant.com.au